It's a mystery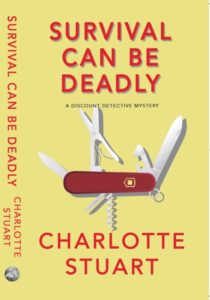 I am excited to announce that my first Discount Detective mystery, SURVIVAL CAN BE DEADLY, is available online and at bookstores. Here's a brief overview and a list of events associated with the book launch.
Overview:
SURVIVAL CAN BE DEADLY is a lighthearted mystery/adventure set in Seattle and the San Juan Islands to the north. It is also the story of a single mom's struggle to find new direction after the death of her husband and a lengthy period of unemployment. When Cameron Chandler lands a position as an investigator with Penny-wise Investigations – "Vigilance you can afford" – a detective agency located in a mall, her first assignment is to locate a runaway girl. The trail leads to a survivalist camp on a remote island. Armed with only a Swiss Army Knife and her quirky on-the-job training as a suburban sleuth, Cameron uncovers more than she bargained for. She soon finds herself in a fight for her own survival.
Upcoming Events – Presentation "Getting Serious About Humor: Murder Mysteries that Bump Your Funny Bone" and readings from SURVIVAL CAN BE DEADLY.
September 25th at 6:00 pm at the Vashon Bookshop on Vashon Island, WA. www.vashonbookshop.com
November 16th at 6:00 pm at Third Place Books in Lake Forest Park, WA. www.thirdplacebooks.com