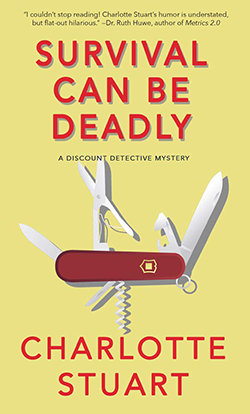 Survival Can Be Deadly (#1)
An unemployed single mom reinvents herself by taking a job as an investigator at a discount detective agency located in a shopping mall – "Vigilance You Can Afford."
Cameron Chandler's first assignment at Penny-wise Investigations is to locate a runaway girl. The trail leads to a survivalist camp on a remote island in northern Puget Sound. Armed with only a Swiss Army Knife and her quirky on-the-job training as a suburban sleuth, Cameron uncovers more than she bargained for. She soon finds herself in a fight for her own survival in this lighthearted mystery set in Seattle and the San Juan Islands to the north.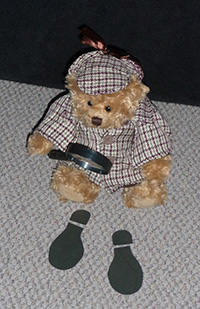 "The theme of this book was unique and I really enjoyed that. A discount detective agency at a mall, that grabbed my attention right away." —MJB Reviewers
"Survival Can Be Deadly introduces mystery lovers to a delightfully relatable and refreshing novice detective, Cameron Chandler, whose first case for Pennywise Investigations delivers a rich payoff of a plot along with a generous dollop of wit, a cast of engaging characters, and a crash course in how to survive survivalism."
—Jeanne Matthews, author of the Dinah Pelerin mysteries
Buy it now: Amazon | Barnes & Noble | BAM | Kobo | Third Place Books
Also available as an audiobook! Audible.com
---
Campaigning Can Be Deadly (#2)
What begins as a political prank ends in murder . . .
Funded by an east coast family in the oil business, the out-of-state Congressional candidate takes the state by storm, marrying the daughter of a local prestigious family, and flooding the airwaves with negative ads.
Penny-wise Investigations, a discount detective agency located in a shopping mall, is hired to find who is stealing the local candidate's political signs. Two of their investigators not only catch the thieves, they find a body next to a pile of stolen signs, proving that . . . Campaigning Can Be Deadly.
"Political campaigns can be brutal, and deadly. When a prank goes awry and a corpse turns up, Campaigning Can be Deadly, the second installment on the "discount detective" series, is off and running and will lead the reader down a quirky, twisted pathway. Colorful characters, nimble dialog, and a fun story. Don't miss it." —D.P. Lyle, MD, Award-winning Author of the Jake Longly and Cain/Harper Thriller Series
"This is a tale of good folks involved in others' bad behavior, and how it turns out just might surprise you."
—Joe Kilgore, The US Review
Buy it now: Amazon | Barnes & Noble | BAM | Kobo | Third Place Books
---
Shopping Can Be Deadly (#3)
When gunshots echo off the shopping mall walls, the phrase "shop till you drop" takes on new meaning . . .
Single mom Cameron Chandler is an investigator with Penny-wise Investigations, a discount detective agency conveniently located in a suburban mall. She is approaching her office with a cup of Guatemalan dark roast in her hand when she hears a gunshot and and sees a young man collapse just a few feet away. Chaos breaks out in the packed mall as people try to escape. Cameron runs over to the gunshot victim and kneels beside him, but before she can help, she is grabbed from behind and forcibly dragged toward a mall exit.
Long-listed for Chanticleer International Mystery and Mayhem Awards
". . . fans of Janet Evanovich's work will likely enjoy this book. An often fun and suspenseful mystery." -Kirkus Reviews
"Readers who like stories that evolve to embrace international affairs, yet remain thoroughly grounded in strong characters whose lives remain at the forefront of their decision-making processes, will relish the adventure and intrigue of a P.I. who faces personal and political conundrums as well as investigative challenges." – D. Donovan, Senior Reviewer, Midwest Book Review
"A light-hearted mystery, it is part serious, part humorous, filled with scenes that will make you giggle aloud." -Anne-Marie Reynolds – Readers' Favorite