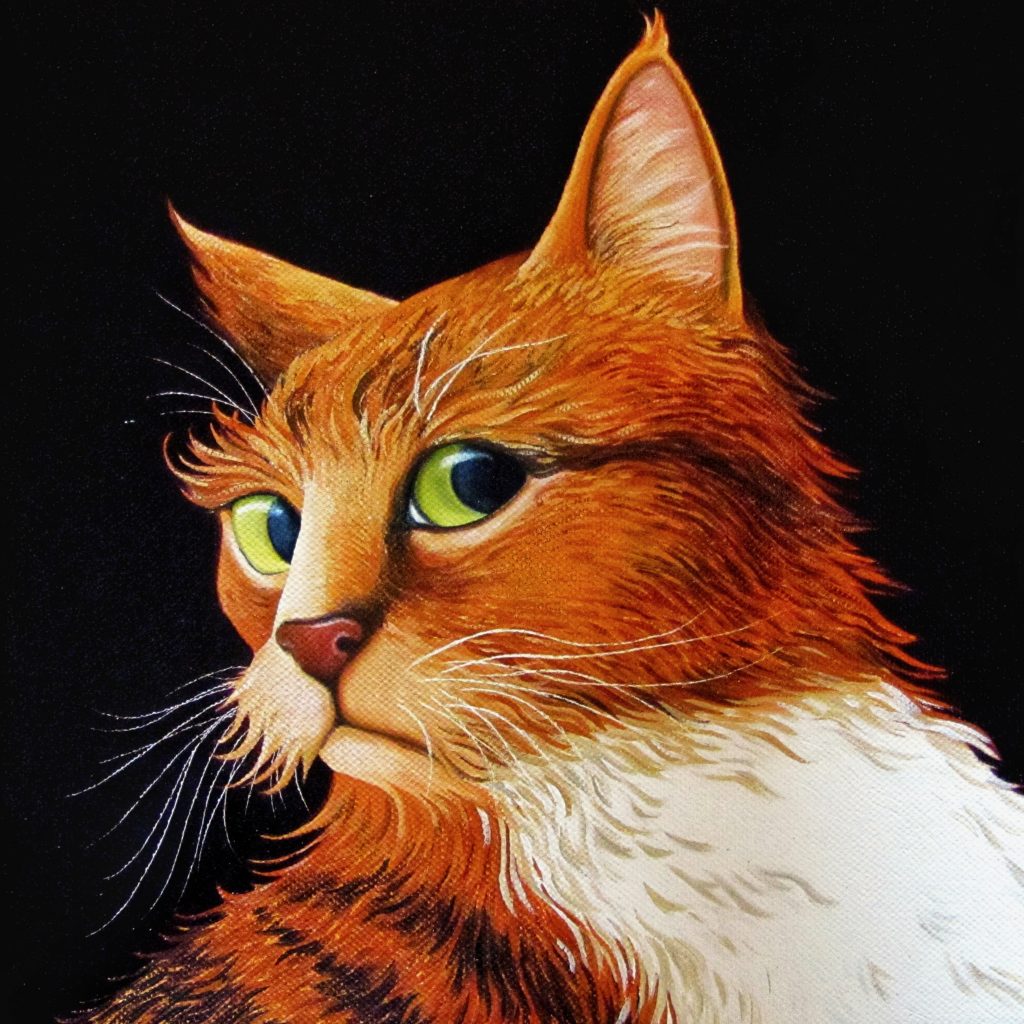 Why Me? Chimeras, Conundrums and Dead Goldfish (#1)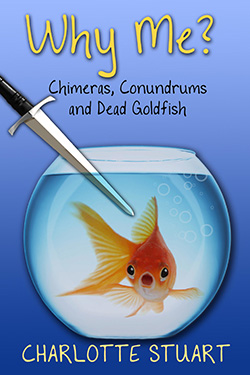 In Greek mythology, the chimera was a bad omen. In Why Me? Chimeras, Conundrums and Dead Goldfish, it's a motive for murder.
Bryn Baczek, a Seattle consultant, is vacationing in Scotland, hiking alone in a downpour, surrounded by midges, when she sees a body at the bottom of a ravine. Before she can return to the scene with the mountain rescue team, the body disappears. She learns that he was a scientist and that his laptop containing his cutting-edge research has disappeared. Rumors that Bryn has the laptop make her a target.
Download the media kit for Why Me?
Chanticleer semi-finalist before publication
"Fans of the classic cozy mystery genre are sure to adore the work of author Charlotte Stuart, whose quintessentially quirky cast and premise already set the story up as a winner from the start. " K.C. Finn – Readers' Favorite
"Full of fascinating characters, crafty clues, and a few unexpected twists that make it a great read for cozy mystery fans." Books a Plenty Book Reviews
"Why Me? Chimeras, Conundrums and Dead Goldfish by Charlotte Stuart has an unusual title and an equally unusual and interesting murder/mystery to go along with it." Grant Leishman for Readers' Favorite
"Loved it! 😍 Chimeras aren't the only things lurking on the waterfront. Good-looking bad guys, scientists, and a mad cat star in this fun thriller." Dorothyanne Brown for Reedsy
"Why Me?: Chimeras, Conundrums, and Dead Goldfish is another fun and crazy cozy mystery from Charlotte Stuart. I love the way Charlotte Stuart writes her main characters. I embrace them as my friends right away." Christy's Cozy Corners
"Why Me? was quite a crazy, funny, cozy mystery! . . . I absolutely loved this story, the characters were funny, likeable and engaging and the twists that were thrown in to throw you off were done well. " EBook addicts
"Charlotte Stuart has a gift for mystery writing with plenty of humor and flawed characters. This was my first book by her and let me tell you, I will be reading more. Such a lovely cozy to curl up to with a cup of tea. Highly recommend! " N N Light's Book Heaven
Buy it: Amazon
Who, Me? Fog Bows, Fraud and Aphrodite (#2)
A heated argument on a nearby boat followed by a loud splash . . .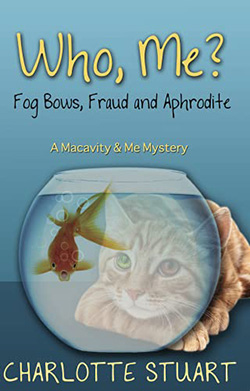 Who, Me? Fog Bows, Fraud and Aphrodite is a mystery set in an urban boating community in Seattle. Bryn Baczek lives on a sailboat in a small marina with her cat, Macavity, and a series of short-lived goldfish. When a neighbor she doesn't like becomes the prime suspect in a murder investigation, she reluctantly seeks evidence to prove him innocent. She ends up being threatened by the victim's abusive boyfriend, betrayed by a close friend, and can't resist using subterfuge to enter a secured building to search the victim's office. Although Bryn shares what she learns with a charming detective whose manicured mustache she finds off-putting, she is one step ahead of the police in identifying the murderer . . . a step that puts her in a dangerous face-to-face confrontation.
"Charlotte Stuart presents a classic whodunit in a very lighthearted tone, making this a very fast paced and enjoyable read." -Jennifer Shepherd – InD'Tale Magazine
Buy it now: Amazon
---