Coming in November: Shopping Can Be Deadly
When gunshots echo off the shopping mall walls, the phrase "shop till you drop" takes on new meaning . . .
". . . fans of Janet Evanovich's work will likely enjoy this book. An often fun and suspenseful mystery." – Kirkus Reviews
"Readers who like stories that evolve to embrace international affairs, yet remain thoroughly grounded in strong characters whose lives remain at the forefront of their decision-making processes, will relish the adventure and intrigue of a P.I. who faces personal and political conundrums as well as investigative challenges." – D. Donovan, Senior Reviewer, Midwest Book Review
Pre-order it now: Amazon | Barnes & Noble | BAM | Third Place Books
Learn more about the first two Discount Detective Mysteries, Survival Can Be Deadly and Campaigning Can Be Deadly.
---
The Macavity & Me Mysteries
Available Now: Who, Me? Fog Bows, Fraud and Aphrodite
A heated argument on a nearby boat followed by a loud splash . . .
"This was a fun cozy. … It kept me guessing all the way to the very end." – Literary Gold Review
"I know! You're saying, 'What's with the title?' Well, all of these (fog bows, fraud, Aphrodite) play a part in this very funny follow-up to Why Me? Chimeras, Conundrums and Dead Goldfish." – Christy's Cozy Corners
Buy it now: Amazon
Learn more about the first Macavity & Me Mystery, Why Me? Chimeras, Conundrums, and Dead Goldfish.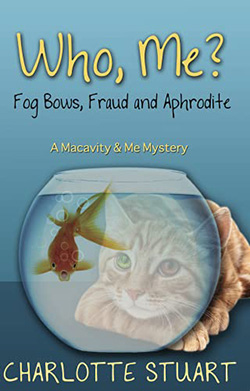 ---
The Vashon Island Mysteries
Available Now: Bogged Down
An ancient bog hidden in a forest is the perfect backdrop for murder . . .
WINNER of the FIREBIRD BOOK AWARD for humor
"… a beautifully-written, intricately-plotted classic whodunnit with a heroine (Lavender "call-me-Lew" Lewis) unlike any I've encountered…" – Harley Jane Kozak, Agatha, Anthony, and Macavity-award winning novelist
"The characters are amazingly well developed and I love the main protagonist, Lavender "Lew" Lewis – a cranky woman yet funny and clever with it, a woman you will enjoy getting to know. The mystery side of it is lighthearted, easy to follow, and it will keep you guessing all the way to the end." – Anne-Marie Reynolds for Readers' Favorite – 5 Stars
.
Buy it now: Amazon | Barnes & Noble